Ross Hickernell and Hickernell Trumpets
Ron Berndt – April 2016
Ross Hickernell was born in Pennsylvania October 9, 1877. His parents were both from Pennsylvania according to census records. In 1900, he married his first wife, Carrie, who was born to Pennsylvania parents in June of 1865. In the census of 1900, Ross is listed as a merchant in Middletown PA. Their daughter Georgia was born in 1902, around which time Ross also entered college at Northwestern University. During his junior year in college, he was recruited as a solo cornetist by the Innes Band for their 21,000 mile West Coast tour of 1905. The tour duties extended into 1906 and Hickernell returned to school only to immediately be hired by the Mozart Symphony Club of New York to replace famed trumpeter Theodor Hoch, who had just died. Hickernell received his Bachelors in Music in 1906, and continued playing with the Mozart Symphony Club for the next season.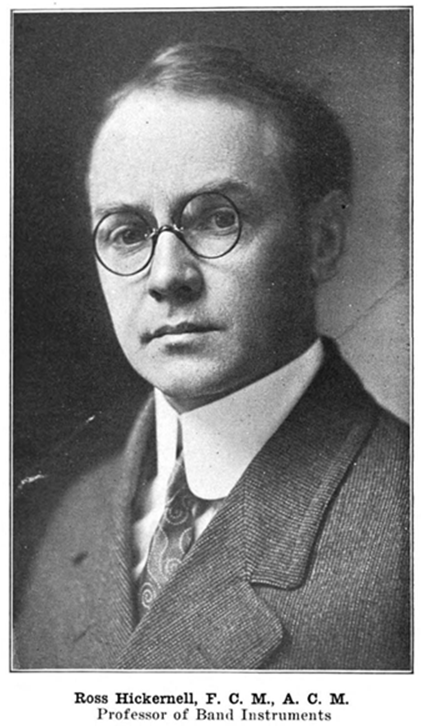 Hickernell was a student of Herman Bellstedt began performing as a professional. He played in a group called the Concert Favorites as well as at least two summers, 1908 and 1909, with Kryl's Band. It is recorded that he had a full five octave range, and was attributed with one of the most sonorous tones of any cornetist of his day. In addition to performing, Hickernell composed and published as well. During this time, Carrie died, leaving Ross a widower. He began teaching music in Warren Ohio before 1910.
While still performing, Hickernell took on other roles in the industry. It was common at this time for an artist to also compose, teach, direct and do a variety of other jobs, as a player's wages alone were not enough to live on. Hickernell served as Director of Music at the Michigan Military Academy, an instructor at the Chautauqua Summer School, and for many years, perhaps ultimately as his primary employment, as Professor of Music and Director of bands at the Dana Musical Institute in Warren Ohio. In 1919, he is listed as new faculty at the University Music School in Oregon, and in 1930-32 at Mount Union College.
One of his part-time gigs was as a columnist in the Jacobs Orchestra Monthly, where he once opened his response to a reader's mailed-in question with "The Eb [alto] saxophone makes an especially poor substitute for any legitimate member of the orchestra family" – signaling a very traditional, perhaps 19th century perspective on instrumentation and tone.
By 1920, he was living in Eugene Oregon and had remarried to his second wife, Josephine, who was born to Irish immigrant parents in Ohio in 1876. Josephine was a grade school teacher, and returned to Warren Ohio with him, where she continued to teach in the public schools.
In 1924 Hickernell received a patent for his "trumpet" design. According to his advertising, the Hickernell Solo Trumpet was uniquely designed to produce a "solo" tone, by which he was equating it with the classic solo cornet sound. He offers it as a stark contrast to the "course" tone of the orchestral trumpet of the day (C.G. Conn advertised theirs as a "true trumpet tone", "strident" and "penetrating", demonstrating the perception of the day that a trumpet should be harsh in tone.)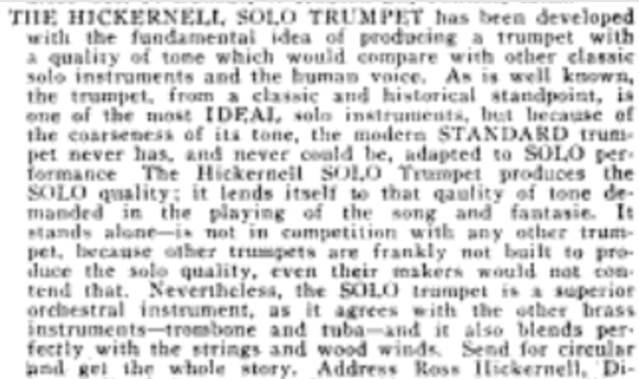 The Hickernell trumpet was a trumpet-shaped cornet in many respects. And as a result, it produced a cornet tone instead of a trumpet one. But this allowed Hickernell to market it to a broader audience, appealing to those looking for a solo instrument, those looking to warm-up orchestral brass, and those looking to keep up with the latest fad by playing trumpet, but wanting to do so without sacrificing the tone they were accustomed to.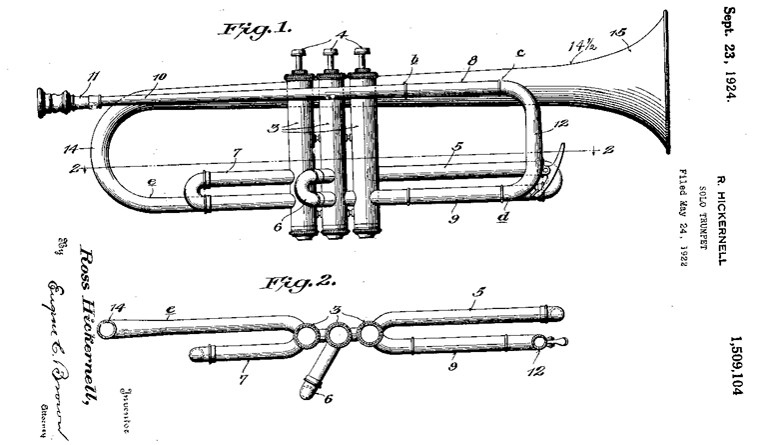 Examples of this instrument marked "Made By the York Band Instrument Co" suggest that Hickernell never ventured into manufacturing, but instead contracted York, a well known supplier of stencil instruments in addition to those sold under their JW York & Son and Grand Rapids Band Instrument Co. names. It appears that the Grand Rapids Michigan firm was not Hickernell's original intended supplier, as it was announced in the September 16, 1922 edition of Music Trades that the Nuss company of Harrisburg Pennsylvania would be the manufacturer of the Hickernell Solo Trumpet.
A Hickernell Solo Trumpet from the collection of Thomas Meacham is shown below.

This appears to be a very early example with a single digit serial number. Other Hickernells made by York with serial numbers in the 3300 to 3800 range have sold on EBay. The design is similar to the balanced model Selmer Paris trumpets, which in turn inherited that design from the Francois Millereau trumpets of the 1910's and 20s. As the first Selmer trumpet came about after the acquisition of Millereau in 1932, and the Selmer 19 that this resembles only became widely recognized when Louis Armstrong began playing one later in that decade, it seems that Hickernell was ahead of the curve with this 1922 design. A circa 1920 Millereau is shown below.

While distinctly different, the two horns seem to share the balanced model concept and some other features in common. The two models do seem to be more visually alike than the actual Hickernell itself is with its patent drawing. One must wonder if there is any connection between Hickernell and Millereau.
Among the commentary on Hickernell left to us by critics of his day, is the statement from the Musical Danas of Warren Ohio that "Ross Hickernell was the only DMI faculty member of his day who could draw students through the power of his reputation." A more interesting statement was made in the Bandmaster, Volume 6 Issue 3 in 1931, which stated not only that he was "an ardent champion of artistic solo work for the wind instruments", but went on to claim that he "was the first to present a complete trumpet recital." There are no mentions in trade publications of Hickernell as a designer or manufacturer of note.
The design and sale of the trumpet appears to have been little more than a side-venture, one among many, by an artist pursuing all avenues to making a living during a time when musicians often found that to be a great challenge. From his advertising, it is clear that Hickernell sought to produce a truly unique instrument, which would play with a tone quality separate from the norm for the instrument in that day.
Ross and Josephine Hickernell disappear from US Census records after the 1940 census. They were 62 and 64 respectively at the time of that record. Hickernell advertising also disappears, but earlier, around 1930. The Great Depression was at its worst around 1931, and could have had a profound effect on the finances and career of a musician, given the tenuous nature of employment in the field. It had an even more profound effect on many instrument makers, with the added burden of payroll and capital debt. It appears that the trumpet sales lasted only a limited number of years, and doubtfully extended as far as, or certainly beyond, 1932.