F. Millard & Co., Band Instruments
Ron Berndt 7/7/2016
Frank Millard was born on the eve of the Civil War on January 22nd, 1860 to Leander and Sarah VanVleck Millard in Palo, Ionia County, Michigan. His father was considered, as related in his obituary, a West Michigan pioneer, having been born in Massachusetts on March 21st 1824. His mother was born April 22nd 1822 in Ulster County New York and died June 19th, 1908.
In 1880, Frank married Lillian Minier on the 19th of December in Palo. According to a TrumpetHerald poster and Millard cornet owner David Koch, in 1884, Frank became an original employee of the J.W. York Band Instrument Company in nearby Grand Rapids. By 1899, he was listed as bandmaster of the 32nd Michigan Volunteer Infantry, with the staff position rank of Chief Musician. This role appears to have been of great importance to either Frank or his family, as it is recorded on his grave marker.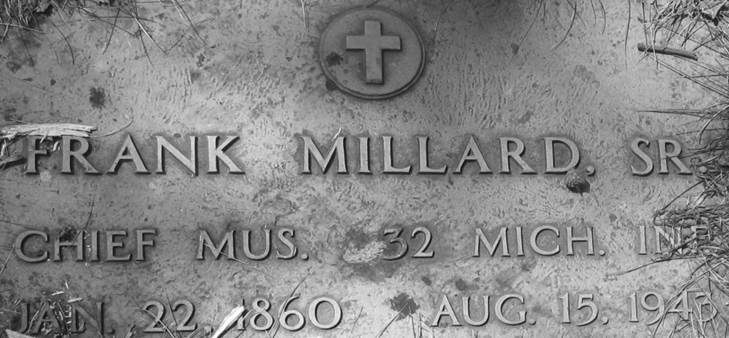 Their son Fred L. Millard (6/22/1887 – 10/30/1955) was also involved in the military, serving in the US Army Quartermaster Corps during World War One with the rank of Sergeant. Given the extensive procurement of band instruments by USQMC in 1918, one must wonder what role Fred played in directing orders to his father's company – which was known for considerable sales of bugles to the military, though primarily the US Navy, from the earliest days of the war. A Regulation bugle is engraved in amazing detail on the family marker above Fred's name along with "F. Millard Co. Home of the Bugle".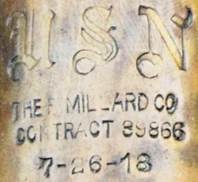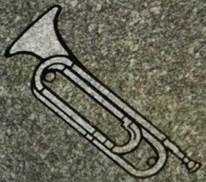 In 1901, Frank Millard partnered with George Newell (3/28/1865 – 4/7/1933) from Kalamazoo and later Coldwater, and Newell Thomas (1853 – after 1930). The Grand Rapids firm was called Newell, Millard & Thomas. It produced a mix of brass instruments from 1901 through 1903 before being broken up, with Willard Bryant of Detroit purchasing half the equity in the firm and re-establishing that portion as the firm of Bryant-Newell with both manufacturing and retail facilities in Detroit. While George Newell was in partnership with Bryant, and his younger brother took a job alongside Newell Thomas at the new firm, George remained in West Michigan and focused on teaching and band leading. It appears that the equity Bryant purchased must have belonged to Millard.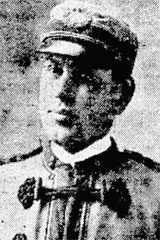 George Newell
The motivation for the dissolution of the partnership after such a short time may have been the death of Millard's wife on December 16th, 1902, three days shy of their 22nd wedding anniversary. Her body was returned to the village of Palo for burial where, notably, the main street is named VanVleck Road. With son Fred only 15 years old, Frank Millard may have initially considered reworking his life to better accommodate his teenage son, though the need would have been relatively short as Fred would be old enough to manage his own affairs within a couple of years. Frank's father then died October 25th, 1904.
Sometime after the split, F. Millard & Company was incorporated to again produce brass instruments. Before 1908, and probably before 1905, Millard, who remarried to Cassie Banasawitz Millard (11/2/1869 – 5/14/1939), set-up the new firm in Detroit. In 1912, Millard became the 7th company permitted to place the shield logo of the Metal Polishers', Buffers', Platers', Brass and Silver Workers Union on instruments. The company had signed the "regular Agreement" with Detroit's Local #1 on November 15th, one day ahead of J.W. York's Grand Rapids Band Instrument Company.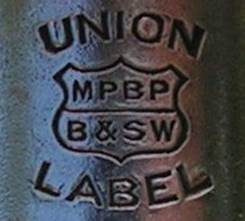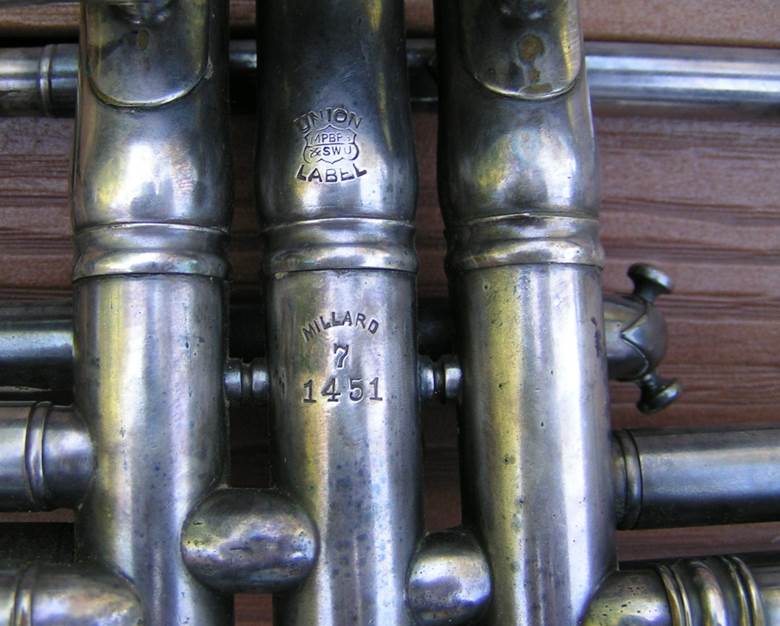 Some Millard instruments bear a strong resemblance to those produced by Bryant-Newell under the Rex brand. Below is a Millard cornet that differs from the Conn Perfected Wonder clone appearing on most company advertising and closely resembling a unique design that also appeared under the Rex brand.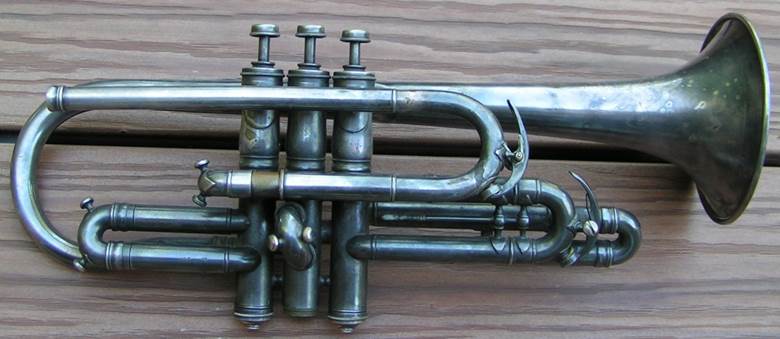 By 1918, the firm's address was listed as 537 Amelia Street in Plymouth Michigan. Millard also operated under the name F. Millard Band Instrument Company interchangeably with F. Millard & Co. and The F. Millard Company. The firm remained in operation until 1921, and some have reported 1931, though Frank would have been 71 and no post-1921 advertising or directory listings have been found by the author. Examples typical of Millard advertising are below.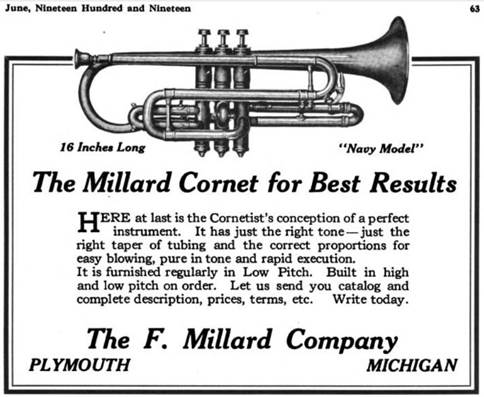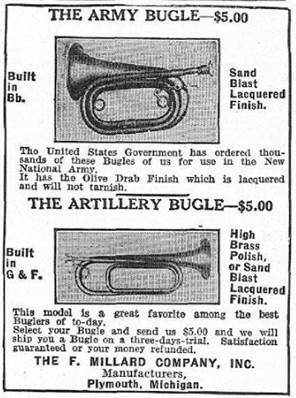 The bell art of a Millard "7" cornet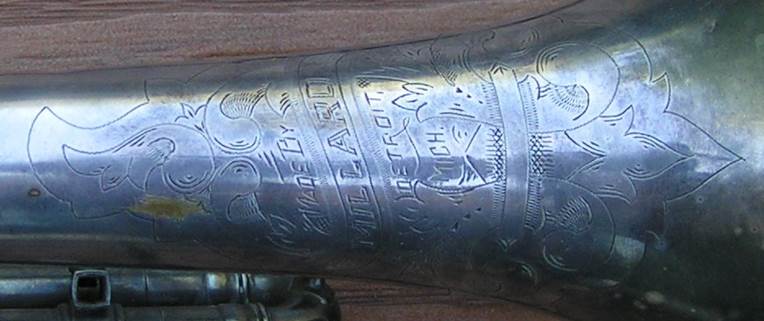 Frank Millard Sr. died August 15th, 1943 and is buried at Parkview Memorial Cemetery in Livonia, Michigan. The military tradition of Chief Musician Millard and his son Quarter Master Sergeant Millard continued with Frank Millard's grandson, Private First Class Fred Millard Jr., United States Army. Fred Jr. served during World War Two, taking part in both the invasion of Sicily and the landings at Omaha Beach with the 29th and 1st Infantry Divisions. He was severely wounded during the Sicily campaign. One of his two Purple Hearts was personally awarded by then Supreme Commander Allied Forces Europe, and future US President Dwight Eisenhower in England. He also received the Bronze Star and was named a Knight of the Legion of Honor by the French Government after the war. A portion of his grave marker is below.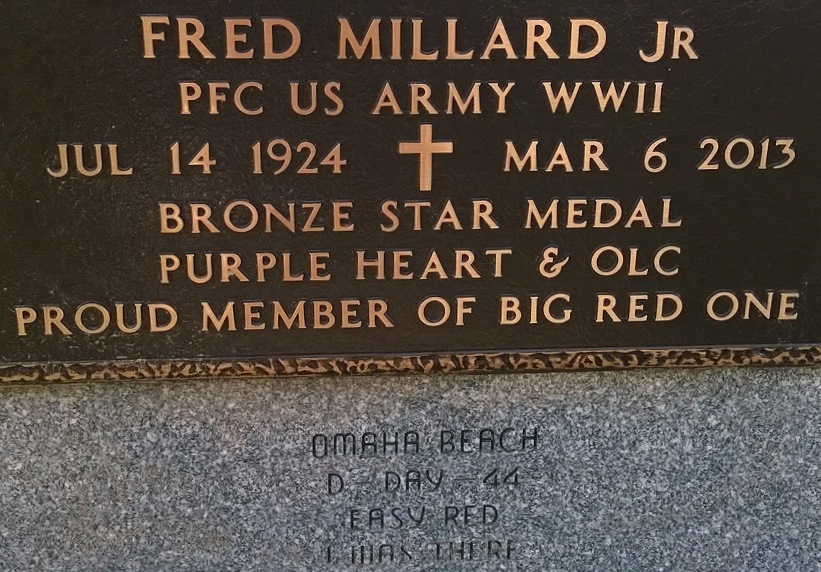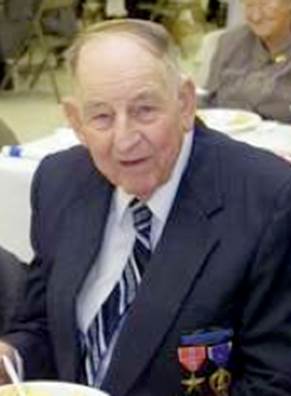 PFC Fred Millard, Jr.