O. F. Berdan's Music Publishing (and store)
Where Henderson White Apprenticed
By Ron Berndt, March 2016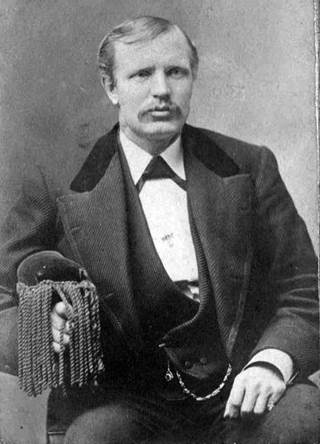 O.F. Berdan
When the creator of the King instrument brand was quite young, his father died forcing Henderson White to drop out of school. His father had been a carpenter, so he attempted to follow that path, but at 12 years of age, was ill-suited to the profession's demands. So, by the time he was 14, White found employment at the Detroit store of O.F. Berdan, from whose employees he learned the basic skills in instrument repair, assembly and engraving that would be the foundation of his career. Demonstrating great potential, the then 16 year old was hired-away by H.E. McMillin's store in Cleveland where White would open his own store along the same model as McMillin within 5 years.
The man who gave White the start on his illustrious career as one of the great makers of the band era, is far less known, but considered by those he encountered as one of the greats of his day. Orange Fame Berdan, who like many with that first name that has faded into obscurity since the dawn of the twentieth century, went by the name Orry. He also used the nickname "Cub". It seems that he used the name "cub" in relation to his compositions and performances as an accomplished fiddler (of the folk music variety - distinct from being a violinist), while" Orry" was used in his life as a cornetist, and "O.F." as his moniker on band instruments, sales materials, business documents and any other application targeting a more "sophisticated" crowd. From his use of his names, one may infer that Mr. Berdan was a skilled marketer and force to reckon with in business.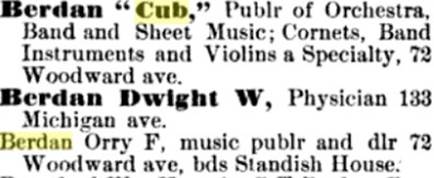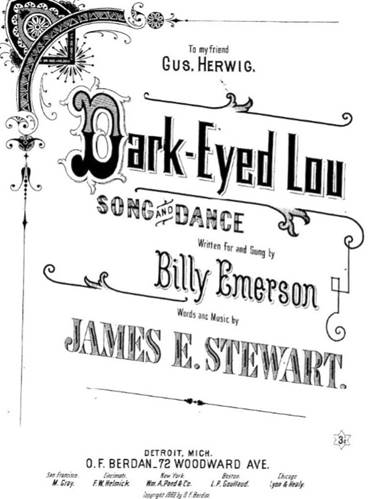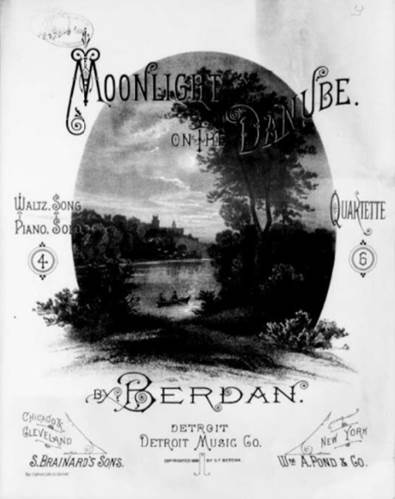 Berdan self-published as well as through the Detroit Music Co. further north at 184-186 Woodward.
The earliest record of Orry Berdan is from the Heritage Encyclopedia of Band Music, which states that "while still young" he was sent to Boston for an education in music. He then appears in Army records in Company C. of the Michigan 5th Volunteer Cavalry, serving under George Armstrong Custer at one point, during the Civil War. He served as a bugler, and exited the service at the end of the war. A year later, the infamous 7th US Cavalry would be formed under General Custer and pass into legend in the West.
Berdan was both a fiddler of some fame, which is appropriate if not ironic given his middle name, and published a number of works for the genre. There is considerable mention of his involvement in dance events across several decades. At the same time, the Civil War bugler was an accomplished musician. When named as one of two judges for the Saginaw State Band Tournament of 1884, he was described as one of the foremost musicians of the period. His cornet playing extended to being a member for many years of the Ypsilanti Cornet Band, as pictured below in their unique carriage - appropriately for a town neighboring Ann Arbor, the home of the University of Michigan, purported to have been blue and gold. The band was led by Fred Cutler and Berdan is believed among the four in the front in this photo that, like the portrait at the top, comes from the collection of the Ypsilanti Historical Society.
According to Chapman Brothers "Portrait and Biographical Album of Lenawee County Michigan, Volume 1" (1888), Berdan, who was born in Macon Township Michigan in 1841, married Fanny Lee Whitney on December 18th, 1878 in Adrian. Fanny was born in Adrian on July 16th 1859, and was thus 18 years Orry's junior when he married at the age of 37. His father, David Berden (1807-October 3rd, 1881), and mother Harriet Cannon Berdan (d. 1874) came to Michigan from New York and were the first settlers of a tract in section 12 of Macon Township. In 1881, the family farm passed to Berdan's edler sister Viana (b. June 11th, 1833) and her husband George Whiting.
When exactly Berdan opened his first music business, and sold, among others, his own compositions for dnace and other purposes, is unclear. Berdan's Music Publishing House at 15 West Maumee Street in Adrian Michigan appears in the records prior to his 1878 marriage. According to his obituary in the Ypsilanti Sentinal, Berdan opened the Detroit store a few blocks in from the Detroit River in 1880, settling his family at 37 Willis Avenue East. There are apartments there on Willis today that are quite old, but probably post-date Berdan's 1901 death.
In Detroit, Berdan also sold band instruments under his own name. It is doubtful that he had capacity in the building for such manufacturing, but not impossible. They were likely supplier-built and stenciled. What White's exposure was to this aspect of the business is unknown, but it is reasonable to assume that in learning the instrumental craft, he would have become familiar with Berdan's source for instruments (import, assembly or both) as well as the repair and engraving trades.
The first Detroit store at 72 Woodward was located in the block pictured below.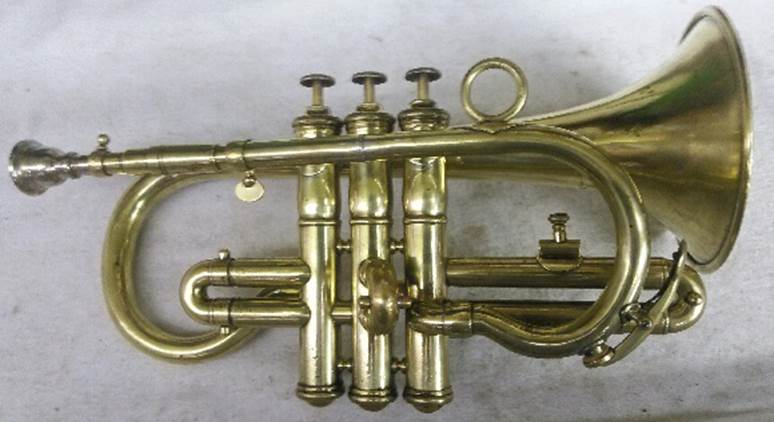 The store address changed sometime after 1881, as can be seen in this sample publication below.
The second store site is roughly at the extreme left of this 1920s photo looking South on Woodward.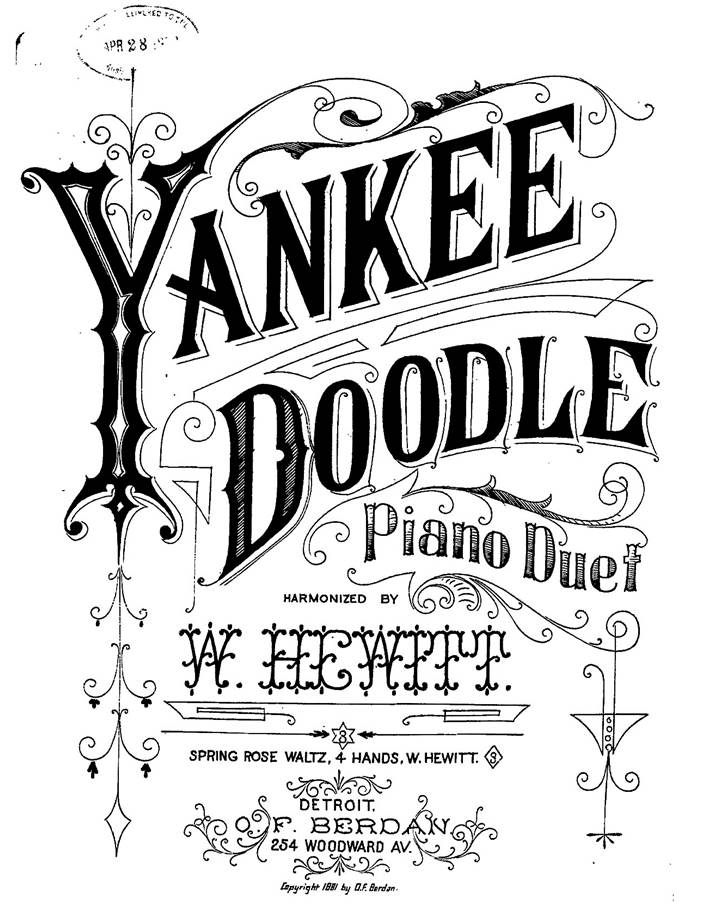 Berdan remained at 254 Woodward, which was then located North of Grand River almost to Grand Circus Park, until 1894, when from all accounts, it appears as though he suffered a stroke at the relatively young age of 53. This forced his exit from the business, which then became the O.J. Price Soda Fountain. The old location at 72 Woodward also became a source of refreshment in the 1890s, as a Saloon. It was the end of a music business in Detroit that had begun well before Berdan bought it from J.P. Weiss, who had operated the store throughout the 1870s, if not before.
Berdan's affliction is noted as having caused partial paralysis and "softening of the brain". The later was designated his cause of death in 1901, though additional strokes together with debilitating senility are a more likely set of causal factors. By the time of his death, he was blind in at least one eye, largely paralyzed, and severely mentally impaired. Prior to the advancement of senility, he is said to have claimed that his affliction was not that bad, his only complaint was that he could no longer play.
Given that Berdan's first stroke occurred the same year that Henderson White began his small music store in Cleveland, one must wonder if Berdan ever knew of the young apprentice's success in the business. White's first production of cornets is unlikely to have been before 1897, with no significant production volumes until after Berdan's death after years of impaired cognitive ability. He probably never knew or imagined that the kid he gave a start to was going to become one of the greatest of American instrument makers and self-made rags-to-riches stories.
O.F. Berdan was buried at the Oakwood Cemetery in Adrian Michigan under a simple military style marker.