Willard Bryant
and Bryant-Newell Band Instruments
Ron Berndt – January 2016
The old center of downtown Detroit changed greatly between the reconstruction era, and what many came to call simply the "destruction era" at the dawn of the twenty-first century. Where Fort, Gratiot and Woodward come together had been a busy mix of retail, light manufacturing and urban living since the boom in construction that followed the Civil War, when in 1893, an instructor at the Detroit Conservatory of Music opened his music store at #36 Gratiot Avenue. The location would later be absorbed into the massive downtown Hudson's Department Store complex that filled an entire city block during much of the twentieth century, ultimately becoming the location of a loading dock on the back side of the Compuware building that, along with a public plaza and winter skating rink, took the place of Hudsons at the dawn of the new century. But before that, it was the home of the Willard Bryant Music store from 1893 until 1903.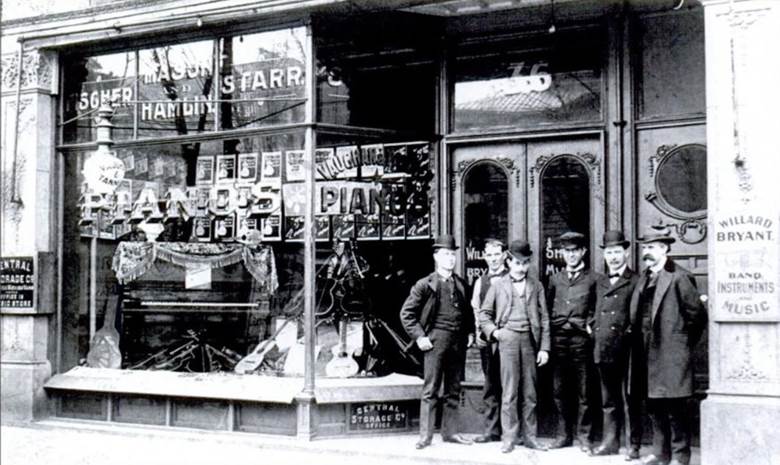 The building was quite narrow, and was also home to the Central Storage Company on the floors above, as can be seen in this circa 1900 photo. The interior of the store shown below was simple, consisting of keyboard instruments, a sales counter, sheet music racks, and display cases for band instruments.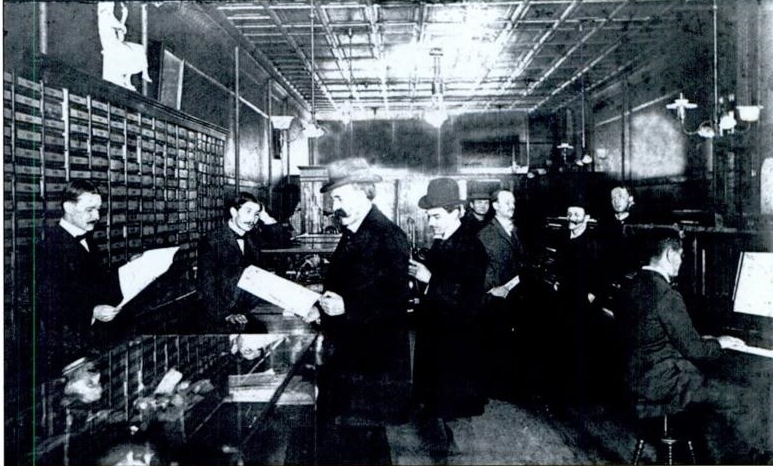 Bryant was both a retailer and a publisher. Pictured in the preceding image at the piano was one of the artists he recruited to his small publishing house, Harry P. Guy, one of whose works is shown below.
Bryant may have used a floor above as his publishing facility, or may have had space elsewhere. For some reason, growth and lack of space being probable, he elected to change location in 1903 to an address along Detroit's, and the state of Michigan's "main street", Woodward Avenue.
Roughly 20 years later, the original store site was demolished to make way for an expansion of the Hudson's Department Store along with the original 1891 Hudson's building. Ultimately,  Hudson's boasted 2.2 million square feet of retail space on the site before closing and being demolished in 1998.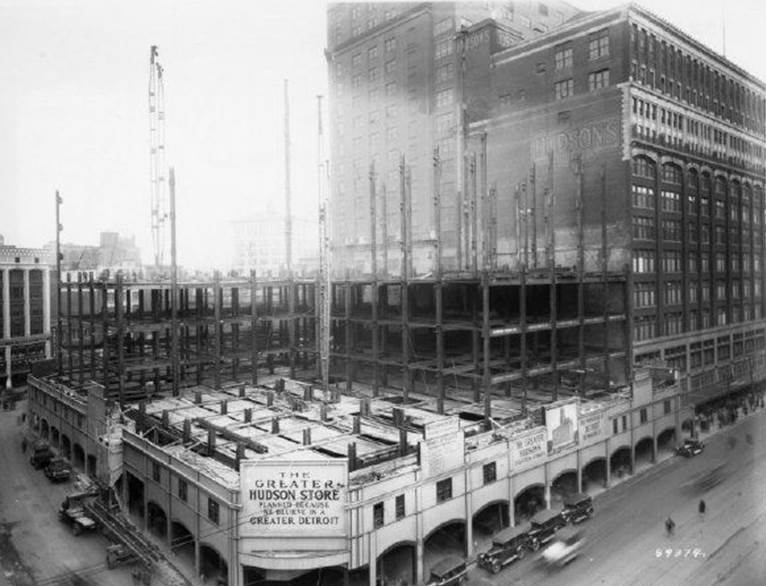 The new store was located at #218 Woodward, just north of Grand River Boulevard,

The advertisement above was run in the Michigan Ensian shortly after Bryant moved to the new store. This location hosted a Cable Piano Company franchise from its opening until sometime after 1919 when similar advertising still appeared in Music Trades.
Willard Bryant had been born in Logansport Indiana on November 28, 1862 to John Bryant and Mary L. Smith. He attended school in Hillsdale Michigan, suggesting a move by the family early in his life. He was married to Minnie J. Slade in 1884 and had one daughter, Martha Louise. A professional cornetist at age 20, he became an instructor at the Detroit Conservatory of Music in 1891. He stopped teaching in 1895 to focus on his business. He built a family home at 2924 E. Grand Boulevard, which still stands (below).

From 1882, #218 Woodward had previously been the storefront of Grinnell Bros., a company that sold White sewing machines and a few parlor organs. According to the book The City of Detroit Michigan 1701-1922, when one of the partners died in 1886, the business transitioned to the sale of keyboard instruments, dropping the sewing machines entirely. It would become a major piano retailer in Detroit within a few years. Grinnell Bros. moved to larger quarters further North, coming to occupy #243, 245 and 247 Woodward by 1919.
The opening of Bryant's new store coincided with the establishment of another business in late 1903, the Bryant-Newell Company. The business, started to make and sell band instruments under the Rex brand name, was capitalized with an astounding $75,000 according to records published by the Michigan Department of Labor in 1914. The initial capitalization of the Cleveland Band Instrument Company in 1919 was only $25,000. The partner in this venture was George Newell from West Michigan, who did not take an active role in the company, though his brother Charles worked there for many years. A partner in a former venture of Newell's that ended in 1903 was an instrument repairman at Willard Bryant's Music House named Newell Thomas. That venture had been the firm of Newell, Millard & Thomas. Many music stores stenciled their name on imported instruments at this point in time, and the Bryant-Newell cornets have many familiar looking parts. However, the construction of the instrument and the wrap of each of the extensive and diverse collection of different designs built by the firm demonstrate that these were fabricated uniquely.
Examples of some of the earliest instrumentss made by Bryant-Newell from the collection of Thomas Meacham are pictured following.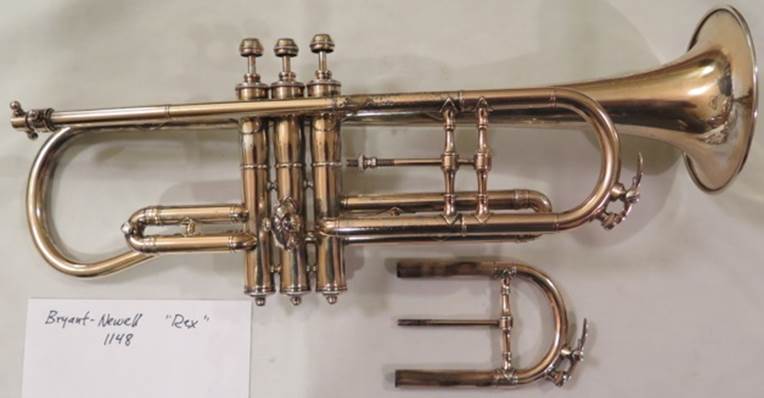 The example above is a trumpet/long cornet unlike anything else available at that time. Among its unique qualities are an innovative compression-nut retained tuning shank. The second example below is a short cornet virtually indistinguishable from a flood of similar models on the market at the time. This basic form is that which is most typical of Bryant-Newell models. Some atypical examples that showcase the remarkable diversity of the Bryant-Newell designer(s) follow.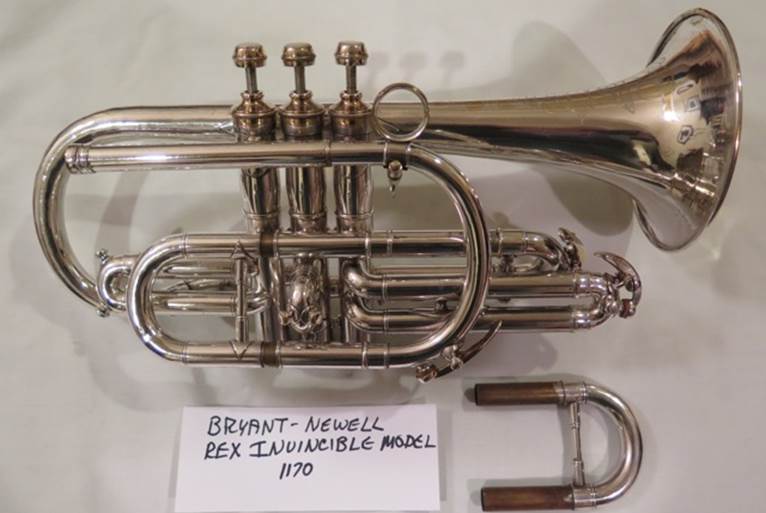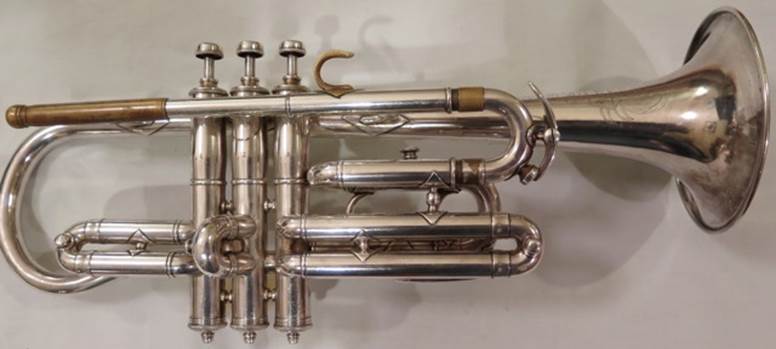 Dating this long cornet is unfortunately not possible outside of noting that its serial number is shy of 2000 while the company run appears to have been somewhere not that far above, so it is likely toward the later period of manufacture. This concept of wrapping the leadpipe back on itself in the front of the horn originated around 1906 in the Holton New Proportion Long Model, around the middle of the period that Bryant-Newell was operating. The concept spread to a variety of Holton, King and Olds cornets in various configurations.
Below is a unique design that if third valve porting were reversed, would resemble a York Perfectone.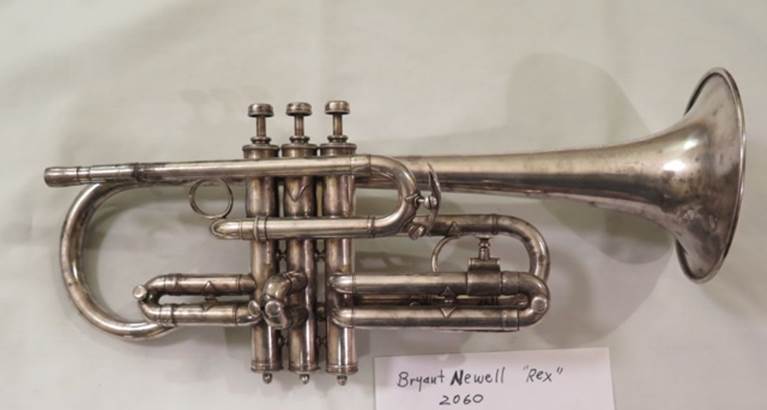 All of these photographs are by, and from the collection of, Thomas Meacham.
The 1914 edition of R.L. Polk's Detroit City Directory lists Bryant-Newell Co. at #61 East Fort Street, with Willard Bryant as President and Newell Thomas as Vice-President. Willard Bryant's Music House continued in operation at #218 Woodward throughout the teens, and this address on Fort was a three story manufacturing facility that was previously home to bed spring manufacturer A.A. Maynard in 1887 and then starting in 1904 Edmonds and Jones, makers of automobile headlamps.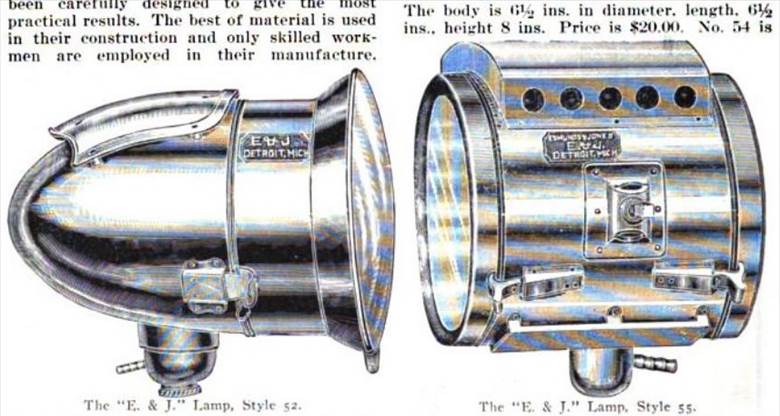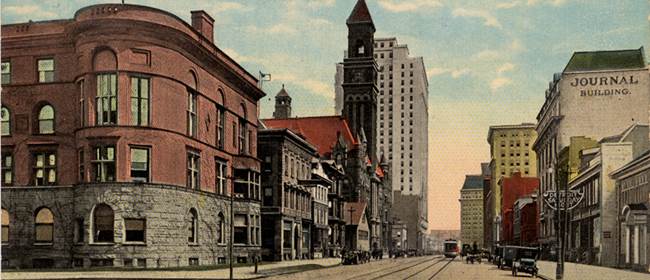 Sometime after 1904, E & J appears to have ceased operations and Bryant-Newell must have taken on this space just behind the Detroit Club (above) for instrument manufacture. However, in 1914, a press release appeared in several publications including  the Automobile Trade Journal   and , The Accessory and Garage Journal stating that a "factory" at 61 Fort Street was obtained by Stocker Manufacturing Co. to manufacture a double-action single tube pump designed by Robert Galen, Secretary of the company. It appears that Bryant-Newell ceased operations at this manufacturing facility at that time. The modest range of serial numbers may indicate that it engaged in fabrication for only 10 years.
In early 1913, Willard Bryant seems to have shifted his investing in a new direction. He bid-out the construction of a four unit apartment building on land he owned at the corner of Commonwealth and Seldon. The all brick building is two stories and measures 40 feet by 42 feet. It still stands (pic below),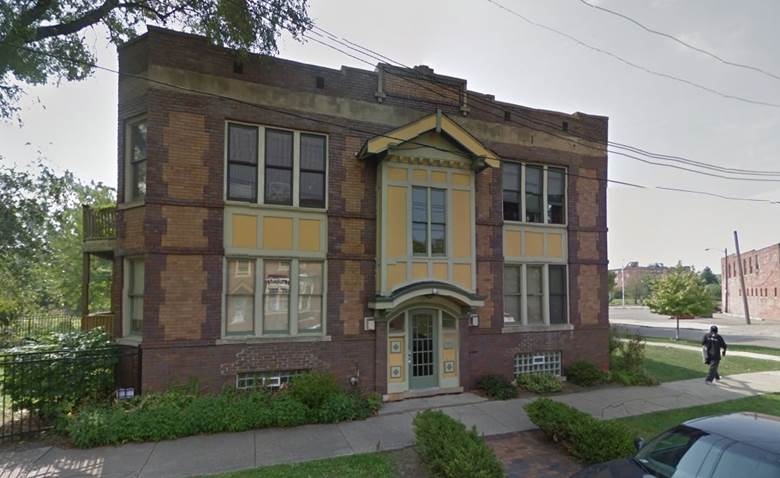 The August 17 1918 edition of Music Trades Magazine ran, on the same page, a press release stating that Willard Bryant of Detroit had begun "large scale" manufacture of violin bows, and an advertisement for Fred Gretsch Manufacturing's Rex Brand Instruments. There are no advertisements or mentions of Rex or Bryant-Newell after 1914 until this appears and Rex is a Gretsch brand. Similarly, Rex does not appear in association with Gretsch before this date. The demise of the Bryant-Newell company is further suggested by The Violinist's Guide in 1916 listing Newell Thomas as simply head of the repair department at Willard Bryant's Music House. It seems probable that sometime between 1913 and 1918, Bryant-Newell shut down, and the brand was taken-up by Gretsch thereafter.
Willard Bryant continued to operate the music store at #218 Woodward until sometime around 1920, at which time the address scheme changed and the store became 1420 Woodward. This building is narrow and tall, very much like the original store at #36 Gratiot. The building stood abandoned in 2014 and is slated for redevelopment in 2016.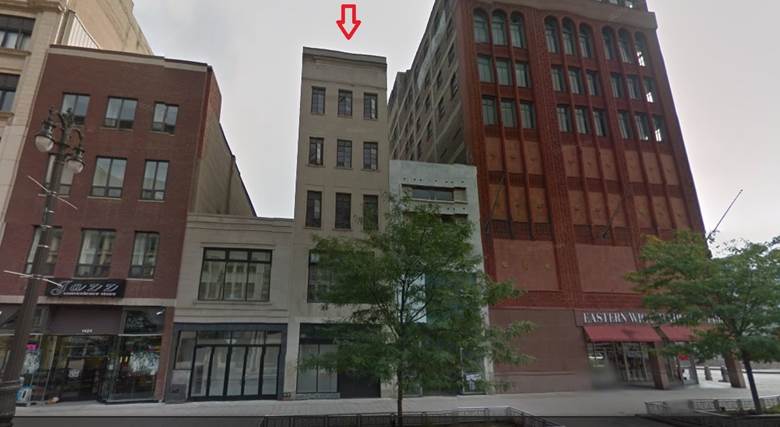 The use of this address in 1922 is confirmed by an advertisement in Music Trades Magazine for the "hornola mute". That ad is below. The Detroit Social Register and Detroit Social Secretary for that year list the Bryant family at the Grand Boulevard home as the Bryants, Mr. & Mrs. Elmer Harold Flinn (daughter Martha and her husband) as well as Mrs. Martha Slade, presumably Minnie's mother.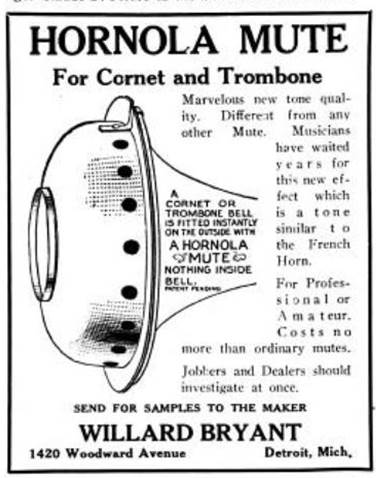 After this, by 1926 Bryant moved again to 1425 Broadway. After whatever business Bryant operated there, the location became a hat factory. There are no further records of Bryant or his companies. Like H.E. McMIllin and James Sistek, he began with a music store, ventured into instrument manufacture, but ultimately did not break-out to the level of a major instrument maker like H.N. White or Frank Holton, who started similarly. He did, however, leave a legacy of the sheet music of Detroit artists at the dawn of the Jazz and Swing era, and some truly unique instruments.